The Milk - Islington Assembly Hall - Review - Gigsoup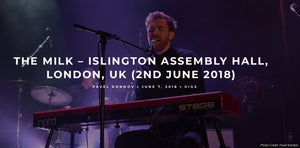 The first Saturday of June saw an impromptu showcase of the modern British soul scene take place, as The Milk headed out on a tour to road-test material for the upcoming third album and brought along some talented friends to the Islington Assembly Hall.
First up was Nick Corbin, the former frontman of the as-of-recently defunct indie-soul outfit New Street Adventure.  Armed with just a microphone and a guitar, Nick presented some new material he has been working on, which was instantly grabbing – showing a clear continuation of the New Street sound, but also a willingness to stray further out from the soul classics guidebook with more adventurous chord choices. We also heard the rhythmical 'Don't Do Me Over' from Nick's collaboration with producer Lack of Afro, as well as fan favourite 'The Big AC' from his former band. Nick Corbin is surely one to watch – with such a high quality in its bare-bones version, the new material is bound to sound magnificent with a backing band.
The second support set came from London-based Eddy Smith & The 507. Their music is a fantastically groovy blend of blues, soul and rock, topped by the rich voice of frontman Eddy Smith who sang with infectious passion throughout, all the while adding beautiful melodies on keys. The band have great range to their material, covering all the bases from lively funky riffs, through to gentle blues ballads. Currently recording their debut album after a successful crowdfunding campaign, Eddy Smith & The 507 are definitely one to add to your list of anticipated releases if you are after fun, soulful grooves that won't fail to put a smile on your face.
Finally, it was time for the headliners from The Milk. The Essex band have been making a name for themselves all across the country with two albums under their belt and an excellent live show. Tonight they were road-testing songs from their upcoming third album which they are recording later this year. The new material showed a lot of promise, continuing down the path they took with the Favourite Worry record of fusing a multitude of soul, funk and rock influences. The selection of songs we heard tended to be a little slower, inviting the bodies in the audience to more of a soulful sway than a groovy jam, with the exception of the more energetic 'Wild Chained Man' which is bound to become a successful single and live staple.
The Milk are magnificent performers, and seemed incapable of putting a foot wrong all night. Frontman Rick Nunn juggled effortlessly between guitar and keyboard, sometimes during the same song, all the while singing his heart out with a wonderful throaty husk. The rest of the band, in addition to displaying excellent chops on their instruments, helped out for some almost Beach Boys-esque vocal harmonies.  Of course, the Essex quintet did not overlook their previous material – album cuts like 'Don't Give Up the Night' or 'What Did I Do To My Love' made bodies swing and necks bob in unison, while fan favourite 'All I Wanted Was Danger' quickly turned into an audience sing-along.
A fantastic evening showcasing gems from the young British bands that are taking the R&B, soul and funk of the 60s and 70s, and putting it in a modern context with stunningly fresh results. Supported by strong sets from Nick Corbin and Eddy Smith & The 507, The Milk gave us a taste of their upcoming record and reminded us of what made their previous two so good.
GigSoup
---
Also in News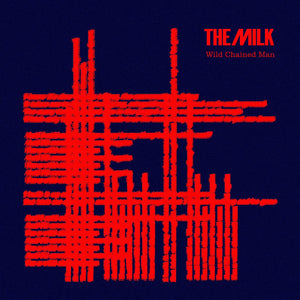 Wild Chained Man is indicative of how strange the writing process can sometimes be! You take a riff that Mitch wrote in 2015, make several incarnations of the said riff, and then abandon to the vault of lost Milk grooves...there are thousands of them. Fast forward to 2019 and the vault is revisited. Mitch and Rick, throw in a spoonful of a recent heartbreak, a dash of failed relationships and a sprinkling of bittersweet reflection and voilà, Wild Chained Man is born.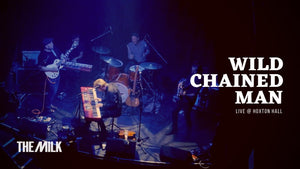 We're delighted to release this live version of Wild Chained Man filmed last October to an exclusive crowd at Hoxton Hall, a beautiful venue in London.